Kepuasan Peserta Diklat Terhadap Pelayanan Widyaiswara
Agus Akhmadi

Balai Diklat Keagamaan Surabaya
DOI:
https://doi.org/10.36052/andragogi.v7i2.101

Abstract Views: 110 |
PDF (Bahasa Indonesia) Downloads: 195
Keywords:
satisfaction, service quality, widyaiswara
Abstract
Penelitian ini bertujuan untuk mendapatkan data tentang kepuasan peserta diklat terhadap layanan kediklatan widyaiswara Balai Pendidikan dan Pelatihan Keagamaan Surabaya. Penelitan ini menggunakan pendekatan kuantitatif dengan metode survei untuk mengetahui faktor-faktor kepuasan peserta diklat. Instrumen pengumpulan data menggunakan kuesioner yang diberikan kepada alumni Diklat Substantif Bimbingan dan Konseling Madrasah Aliyah tahun 2019. Instrumen tersebut meliputi dimensi tangibles, reliability, responsiveness, assurance dan empathy widyaiswara. Hasil penelitian menunjukkan bahwa layanan kediklatan yang dilakukan Widyaiswara Balai Diklat Keagamaan Surabaya telah memenuhi aspek tangible (penampilan fisik serta kondisi pelayanan widyaiswara), keandalan (kompetensi diklat yang dijanjikan dengan akurat dan terpercaya sesuapi harapan peserta), respon (bijaksana memberikan layanan cepat kepada peserta), assuransi (kemampuan melaksanakan tugas secara spontan yang menjamin kualitas diklat), dan empati (memberikan perhatian individual dan memahami peserta diklat). Kualitas rata-rata dan keseluruhan aspek telah menunjukkan nilai sangat memuaskan. Urutan kualitas paling memuaskan adalah pada dimensi: empati, assuranse, tangible, keandalan, dan respon widyaiswara dalam diklat.
References
Ariani, D. (2009). Manajemen Operasi Jasa (Cetakan Pertama ed.). Yogyakarta: Graha Ilmu.
Brown, P., & Levinson, S. C. (1987). Politeness: Some Universals in Language Usage. Cambridge: Cambridge University Press.
Cadotte, E., Woodruff, R., & Jenkins, R. (1987). Expectations and Norms in Models of Consemer Satisfaction. Journal of Marketing Research, 24(3), 305-314. doi:https://doi.org/10.2307/3151641
Cercone, K. (2008). Characteristics of Adult Learners with Implications for Online Learning Design. AACE Journal, 16(2), 137-159. Diambil kembali dari https://www.learntechlib.org/primary/p/24286/
Day, R. (1984). Modeling Choices Among Alternative Responses to Dissatisfaction. Dalam T. Kinnear (Penyunt.), Advances in Consumer Research (Vol. 11, hal. 496-499). Diambil kembali dari http://acrwebsite.org/volumes/5934/volumes/v11/NA-11
Fornell, C. (1992). A National Customer Satisfaction Barometer: The Swedish Experience. Journal of Marketing, 56, 6-21. doi:https://doi.org/10.2307/1252129
Keller, P. K. (2008). Manajemen Pemasaran. Jakarta: Erlangga.
Lupiyoadi, & Hamdani. (2006). Manajemen Pemasaran Jasa. Edisi Kedua. Jakarta: Penerbit Salemba Empat.
Nuraini. (2018). Tingkat Kepuasan Peserta Terhadap Kualitas Pelayanan Widyaiswara Pada Diklat Teknis Substantif Publikasi Ilmiah bagi Guru Mata Pelajaran Agama MTs Angkatan III. Andragogi Jurnal Diklat Teknis Pendidikan dan Keagamaan, 6(1), 168-186. doi:https://doi.org/10.36052/andragogi.v6i1.53
Schiffman, & Kanuk. (2004). Perilaku Konsumen Edisi 7. Jakarta: Prentice Hall.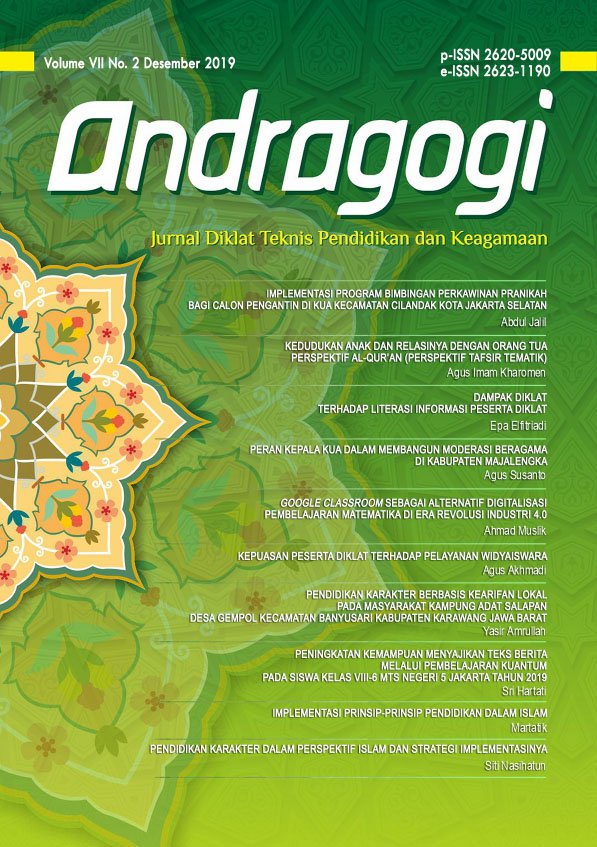 Authors who publish with this journal agree to the following terms:
Authors retain copyright and grant the journal right of first publication with the work simultaneously licensed under a Creative Commons Attribution License that allows others to share the work with an acknowledgment of the work's authorship and initial publication in this journal.
Authors are able to enter into separate, additional contractual arrangements for the non-exclusive distribution of the journal's published version of the work (e.g., post it to an institutional repository or publish it in a book), with an acknowledgment of its initial publication in this journal.
Authors are permitted and encouraged to post their work online (e.g., in institutional repositories or on their website) prior to and during the submission process, as it can lead to productive exchanges, as well as earlier and greater citation of published work (See The Effect of Open Access).