Penyuluh Agama Islam, Religiusitas, dan Salatiga sebagai Kota Toleran
Sholahuddin

Puslitbang Bimas Agama dan Layanan Keagamaan, Badan Litbang dan Diklat Kementerian Agama

Zaenal Abidin Eko Putro

Politeknik Negeri Jakarta
DOI:
https://doi.org/10.36052/andragogi.v8i2.163

Abstract Views: 90 |
PDF Downloads: 272
Keywords:
islamic instrutor, eight specialties, tolerant city, religiosity
Abstract
[ISLAMIC INSTRUCTORS, RELIGIOSITY, AND SALATIGA AS TOLERANT CITY]. Developing and strengthening a religiously motivated society lies in the responsibility of the Islamic religious instructors including those who work for the Ministry of Religious Affairs (MoRA) of Salatiga City, Central Java. Their detailed tasks have been released, that is in accordance with the Decree of the Director General of Islamic Community Guidance No. 298 of 2017 concerning Guidelines for Islamic Extension Workers, namely 8 (eight) specific fields which are the following; Read and Write the Qur'an, halal products, radicalism, and Islamic splinter group, sakinah families, HIV/AIDS & Drugs, Zakat, Waqf, and Religious Harmony. In addition, it is widely known that Salatiga has been granted as the most tolerant city in Indonesia by the Setara Institute for the last several years. Currently, the role of religious instructors to fulfill their assignments to support such a tolerant city remains less unknown. This article that is stemmed from the qualitative research has shown that religious instructors of the Islam section in Salatiga are able to fulfill their role as the contributor for religiosity and harmony in society, although some challenges remain. They could also accelerate with the title of tolerant city that pinned to their city.
References
Aliyah, S., & Kusuma, B. M. A. (2019). Tuntutan Kinerja Dalam Keterancaman Kerja: Dilema Karir Penyuluh Agama Non Pegawai Negeri Sipil. Jurnal Ilmiah Syi'ar, 19(1), 55. https://doi.org/10.29300/syr.v19i1.2265
Aspers, P., & Corte, U. (2019). What is Qualitative in Qualitative Research, (1), 139–160. Basit, A. (2014). Tantangan profesi penyuluh agama islam dan pemberdayaannya. Jurnal Dakwah, XV(1), 157– 178. https://doi.org/https://doi.org/10.14421/jd.2014.15108
Eko Putro, Z. A. (2020). Pengayaan Literasi Keagamaan Melalui Akses Buku Keagamaan Penyuluh Agama Di Sulawesi Utara. Jurnal Lektur Keagamaan. https://doi.org/10.31291/jlk.v18i1.605
Eko Putro, Z. A., & Kosasih, K. (2018). MEMBUKA KERAN KEMAJUAN DAN JARINGAN: GERAKAN DAKWAH LINTAS NEGARA (RI-PNG). Harmoni. https://doi.org/10.32488/harmoni.v17i1.221
Holdcroft, B. B. (2006). What is Religiosity. Journal of Catholic Education, 10(1), 89–103. https://doi.org/10.15365/joce.1001082013
Ilham. (2018). Peranan Penyuluh Agama Islam dalam Dakwah. Jurnal Alhadharah, 17(33), 49–80.
Kusnawan, A. (2011). Urgensi Penyuluh Agama. Jurnal Ilmu Dakwah, 5(17), 271–289.
Mawardi, M. (2017). Keluarga Sakinah: Konsep & Pola Pembinaan. International Journal Ihya' 'Ulum al-Din, 18(2), 253. https://doi.org/10.21580/ihya.17.2.1739
Menchik, J. (2014). Productive intolerance: Godly nationalism in Indonesia. Comparative Studies in Society and History, 56(3), 591–621. https://doi.org/10.1017/S0010417514000267
Mohajan, H. K. (2018). Qualitative Research Methodology in Social Sciences and Related Subjects. Journal of Economic Development, Environment and People, 7(85654), 23–48.
Munir, S. (2017). No TitleSalatiga Kembali Raih Predikat Kota Paling Toleran di Indonesia Artikel ini telah tayang di Kompas.com dengan judul "Salatiga Kembali Raih Predikat Kota Paling Toleran di Indonesia", https://regional.kompas.com/read/2017/11/20/12433971/salatiga-ke.
Noorbani, M. A. (2013). Penyelenggaraan Kepenyuluhan Agama Islam Non PNS di Kota Depok. Penamas Jurnal Penelitian Keagamaan dan Kemasyarakatan, 29, 2012–2013.
Olomojobi, Y. (2017). Explaining the Otmosis of Identity Threats and Religious Violence. SSRN Electronic Journal, 1–40. https://doi.org/10.2139/ssrn.3062534
Rosidin. (2017). Indeks Peran Penyuluh Agama dalam Membina Kehidupan Beragama Keluarga Majelis Taklim di Kabupaten Sragen, Jawa Tengah. Jurnal SMaRT Studi Masyarakat, Religi dan Tradisi Volume, 3(1). https://doi.org/DOI: http://dx.doi.org/10.18784/smart.v3i1.461.g291
Salleh, M. S. (2012). Religiosity in Development : A Theoretical Construct of an Islamic-Based Development. International Journal of Humanities and Social Science, 2(14), 266–274.
Syuhudi, M. I. (2017). Penyuluh Agama dan Pengelolaan Kerukunan di Manado. Mimikri, 3(1), 28–41.
ten Kate, J., de Koster, W., & van der Waal, J. (2017). The Effect of Religiosity on Life Satisfaction in a Secularized Context: Assessing the Relevance of Believing and Belonging. Review of Religious Research, 59(2), 135–155. https://doi.org/10.1007/s13644-016-0282-1
Usman, A. H., Shaharuddin, S. A., & Abidin, S. Z. (2017). Humanism in Islamic Education: Indonesian References. International Journal of Asia Pacific Studies, 13(1), 95–113.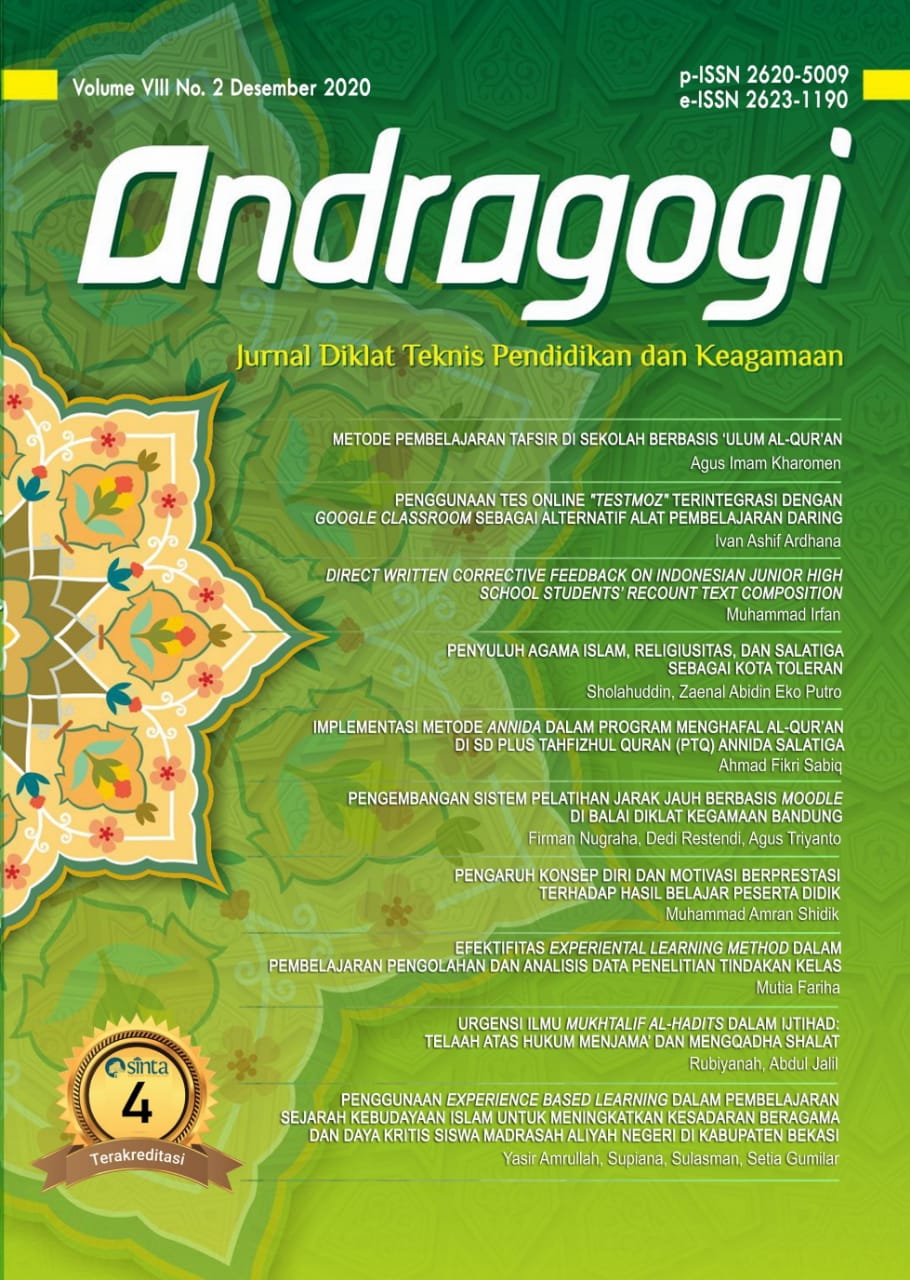 Copyright (c) 2020 Sholahuddin, Zaenal Abidin Eko Putro
This work is licensed under a Creative Commons Attribution-NonCommercial 4.0 International License.
Authors who publish with this journal agree to the following terms:
Authors retain copyright and grant the journal right of first publication with the work simultaneously licensed under a Creative Commons Attribution License that allows others to share the work with an acknowledgment of the work's authorship and initial publication in this journal.
Authors are able to enter into separate, additional contractual arrangements for the non-exclusive distribution of the journal's published version of the work (e.g., post it to an institutional repository or publish it in a book), with an acknowledgment of its initial publication in this journal.
Authors are permitted and encouraged to post their work online (e.g., in institutional repositories or on their website) prior to and during the submission process, as it can lead to productive exchanges, as well as earlier and greater citation of published work (See The Effect of Open Access).