Impelementasi Metode Annida dalam Program Menghafal Al-Qur'an di SD Plus Tahfidzul Qur'an Annida Salatiga
Ahmad Fikri Sabiq

Institut Agama Islam Negeri (IAIN) Salatiga
DOI:
https://doi.org/10.36052/andragogi.v8i2.164

Abstract Views: 333 |
PDF Downloads: 333
Keywords:
Al-Qur'an, memorization, annida method, elementary school
Abstract
[Implementation of the Annida Method at Al-Qur'an Memorizing Program in SD Plus
Tahfizhul Quran (PTQ) Annida Salatiga]. Efforts to protect Al-Qur'an through memorization programs today have echoed everywhere. Many formal and non-formal institutions have established this program for children to adults. So there needs to be a good memorization method to be developed. The purpose of this study was to determine the method of learning to memorize the Qur'an which is applied in formal educational institutions at the elementary school level, namely the Annida method. This research method uses a qualitative approach and is field research. The technique of collecting data by means of interviews, observation, and documentation. Data analysis using qualitative analysis. The results of this study are (1) During the six years of studying at SD Plus Tahfizhul Quran (PTQ) Annida, the target students are able to memorize 10 juz. (2) The Annida method consists of four elements, namely tilawah, ziyadah, muraja'ah, and imtihan. In addition, there is also a tahfizh kit which is used as a tool to maximize the Al-Qur'an memorization program. (3) There are 30% of students from the first batch of graduates who achieved the target and 40% of students from the second generation who could achieve the target. (4) The obstacles that arise in learning tahfizh come from internal and external aspects. This research can be used as a reference for elementary level formal education institutions that develop Al-Qur'an memorization programs.
References
Al-Hafidz, A. W. (2000). Bimbingan Praktis Menghafal Al-Qur'an. Jakarta: Sinar Grafika.
Asy-Syinqithi, M. H. (2011). Kiat Mudah Menghafal Quran. Solo: Gaza Media.
Hariyatin, W. E., & Marhumah. (2017). "Method of Memorizing the Qur'an In Early Childhood Period: Case Studies in TKIT Yaa Bunayya and RA Darussalam Yogyakarta." Indonesian Journal of Islamic Early Childhood Education 2(1).
Herma, T., Kusyairy, U., & Rusdi M. T. (2020). "Analisis Penerapan Metode Tabarak Menghafal Al-Qur'an Juz 30 di Sekolah Tahfidz Al-Husna Balita dan Anak Makassar." NANAEKE: Indonesian Journal of Early Childhood Education 3(1):37-48.
Hidayah, A. (2017). "Metode Tahfidz Al-Qur'an Untuk Anak Usia Dini: Kajian Atas Buku Rahasia Sukses 3 Hafizh Qur'an Cilik Mengguncang Dunia." Jurnal Studi Ilmu-Ilmu Al-Qur'an Dan Hadits 18(1):51–70.
Ilyas, M. (2020). "Metode Muraja'ah Dalam Menjaga Hafalan Al-Qur'an." Jurnal Al-Liqo 5(1).
Karim, D. A., Hafid, N. M., & Zaenal, A. A. (2019). "Metode Yadain Li Tahfizh Al-Qur'an: Implementasi Program Karantina Sebulan Hafal AlQur'an di Desa Maniskidul Kuningan Jawa Barat." Jurnal Studi Quranika 4(2):181-200.
Liza, F. (2019). "Analisis Metode Iqra Dalam Pembacaan Fawatihussuwar Mahasiswa FAI UHAMKA." Jurnal Pendidikan Islam 10(1):33–42.
Lubis, A. M., & Syahrul, I. (2019). "Metode Menghafal Al-Qur'an Pada Anak Usia Dini Di Tahfidz Center Darul Hufadz Kota Padang." Aulad : Journal on Early Childhood 2(2):8–14.
Masyhud, F., & Husnur I. R. (2016). Rahasia Sukses 3 Hafizh Qur'an Cilik Mengguncang Dunia. Jakarta: Zikrul Hakim.
Mercellina, F., & Muhammad A., & Karoma. (2020). "Muraja'ah Learning Method On Home Tahfizh Qur'an An-Nuur." Edukasi Islami: Jurnal Pendidikan Islam 9(2).
Raya, M. K. F. (2019). "Kajian Psikologis Taḥfiẓ Al-Qur'an Anak Usia 6-12 Tahun." Jurnal Pendidikan Islam 9 (1):1-11.
Sabiq, A. F. (2020). Panduan Pembelajaran Tahfizhul Quran Metode Annida. Salatiga: Annidemia.
Sabiq, A. F., Ckamim A., & Hidayah N. (2020). "Implementation of Tahfizhul Qur'an Learning with AlQosimi Method." Jurnal Tarbiyatuna 11(2):143-152.
Sugiyono. (2015). Metode Penelitian Pendidikan (Pendekaan Kuantitatif, Kualitatif, Dan R & D). Bandung: Alfabeta.
Susianti, C. (2016). "Efektivitas Metode Talaqqi dalam Meningkatkan Kemampuan Menghafal Al-Qur'an Anak Usia Dini." Jurnal Tunas Siliwangi 2(1):1-9.
Widyasari, R. (2018). "Pembelajaran Tahfizul Quran Dengan Metode Talaqqi Pada Santri Kelas I'dadi Di Kuttab Tahfizul Quran Al-Husnayain Surakarta Tahun Pelajaran 2018/2019." IAIN Surakarta, Surakarta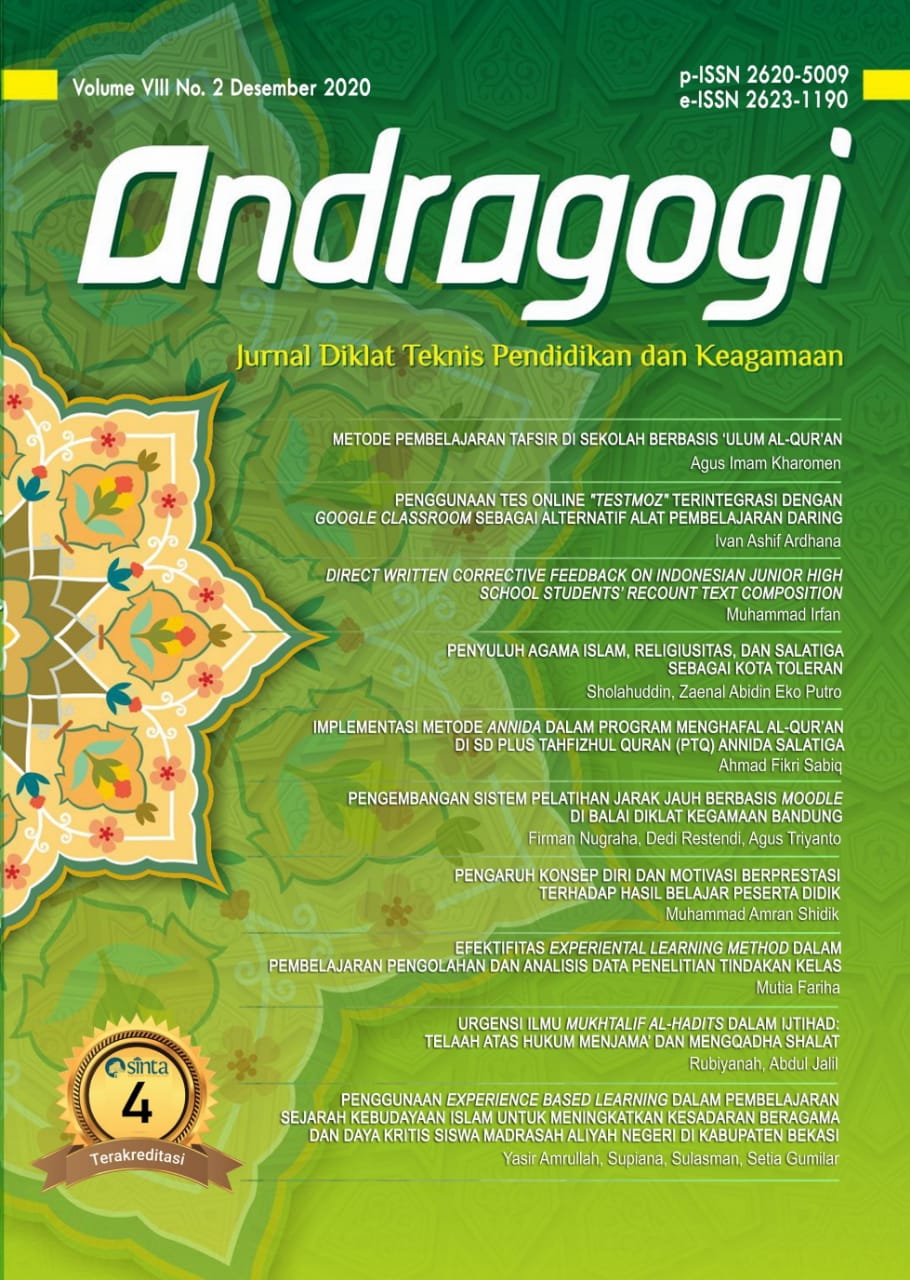 Copyright (c) 2020 Ahmad Fikri Sabiq
This work is licensed under a Creative Commons Attribution-NonCommercial 4.0 International License.
Authors who publish with this journal agree to the following terms:
Authors retain copyright and grant the journal right of first publication with the work simultaneously licensed under a Creative Commons Attribution License that allows others to share the work with an acknowledgment of the work's authorship and initial publication in this journal.
Authors are able to enter into separate, additional contractual arrangements for the non-exclusive distribution of the journal's published version of the work (e.g., post it to an institutional repository or publish it in a book), with an acknowledgment of its initial publication in this journal.
Authors are permitted and encouraged to post their work online (e.g., in institutional repositories or on their website) prior to and during the submission process, as it can lead to productive exchanges, as well as earlier and greater citation of published work (See The Effect of Open Access).