Efektifitas Experiential Learning Method dalam Pembelajaran Pengolahan dan Analisis Data Penelitian Tindakan Kelas
Mutia Fariha

Balai Diklat Keagamaan Aceh, Badan Litbang dan Diklat Kementerian Agama
DOI:
https://doi.org/10.36052/andragogi.v8i2.178

Abstract Views: 306 |
PDF Downloads: 172
Keywords:
effectiveness, experiential learning method, perceptions of participants
Abstract
[EFFECTIVENESS OF EXPERIENTIAL LEARNING METHOD IN LEARNING ACTIVITIES DATA PROCESSING AND
ANALYSIS CLASSROOM ACTION RESEARCH]. This research is qualitative research with a descriptive method
which aims to determine the effectiveness of the Experiential Learning Method in the learning process Processing and Data Analysis at the Classroom Action Research (CAR) Training based on the perceptions of the participants. Effectiveness is seen based on the suitability of the results obtained with the learning objectives. The research was conducted at CAR training in Aceh Barat Daya with the subject of research as many as 40 people. Collecting data using a questionnaire with google form and triangulation by interviews and observations of work documents. The results showed that according to participants' perceptions the application of the Experience Learning Method in learning was effectively based on the achievement of learning outcomes. The application of the Experience Learning Method can also increase motivation, provide experience in processing and analyzing data in real situations, and improve skills in processing and analyzing CAR data.
References
Aeli. (2017). Apa itu Experiential Learning ? Retrieved from Asosiasi Experiantial Learning Indonesia: htts://www.aeli.or.id
Ariviyanto, I. (2019, Desember 05). Pengaruh Motivasi dan Kedisiplinan Belajar Terhadap Kesiapan kerja Peserta Pelatihan di BLBK Semarang. Retrieved from Unnes Repository: https://lib.unnes.ac.id
Budiwan, J. (2018). Pendidikan Orang Dewasa (Andragogy) . Qalamuna,, Vol. 10(2):107-135.
Colin M. Beard, John Peter Wilson. (2007). Experiential Learning: A Best Practice Handbook for Educators and Trainers. London: Kogan Page.
Darmali, H. (2012). Tekhnik Pengolahan dan Analisis Data PTK. Jurnal Pendidikan AlQalam, 46-55.
De Porter, B., & Mike, H. (1992). Quantum Learning. Membiasakan Belajar Nyaman dan Menyenangkan. (A. Abdurrahman, Penerj.) Bandung: Perbit Kaifa.
Eitington, J. E. (2015). The Winning Trainer. New York: Routledge.
Farmer, S. (2004). Connotative Learning: The Trainer's Guide to Learning Theories and Their Practical Application to Training Design. Iowa: Kendall Hunt.
Fathurrohman, M. (2017). Belajar dan Pembelajaran Modern: Konsep Dasar, Inovasi dan Teori Pembelajaran. Yokyakarta: Garudhawaca.
Horshit. (2014). Evaluation of Training and Development: An Analysis of Various Model. Journal of Bussiness and Management, 5(2), 16-17. doi:https://doi.org/10.9790/487X-0521622
Juniardi, Y. (2019). Kesulitan Guru Sekolah Dasar dalam Membuat Karya Tulis Ilmiah. Dinamika Sekolah Dasar, 1-7; DOI: doi.org/10.21009/DSD.XXX. Kolb, D. A. (2015). Experiential Learning: Experience as the Source of Learning and Development. USA: FT Press.
Latifah, F. A., Samsudi, & Masrukan. (2014). Model Supervisi Akademik Kelompok Berbasis Think Talk Write Untuk Peningkatan Kemampuan Guru Menyusun Karya Tulis Ilmiah. Educational Management, 3(1). Diambil kembali dari https://journal.unnes.ac.id/sju/index.php/eduman/article/view/4357
Mahfud, M. N. (2012). Kesulitan Guru dalam Melaksanakan Penelitian Tindakan Kelas. Retrieved from http://eprint.ums.ac.id
Mahmudi. (2011). Akuntansi Sektor Publik. Yokyakarta: UUI Press. Maimunah, Daud. (2019). Analisis Kesulitan Guru IPA Untuk Melakukan Penelitian Tindakan Kelas. Optika, Vol. 3, No. 2, (36-42).
Malcolm S Knowles, Elwood F Holton III, Richard A Swanson. (2012). The Adult Learner. New York: Routledge.
Marwan, A. (2017). Membangun Gerakan Literasi. Retrieved from http://harian.analisadaily.com/opini/news/membangun-gerakanliterasi/339316/2017/04/11
Miles, Huberman, and Saldana. (2014). Qualitative Data Analysis. Washington: Sage Publication. Inc. Pramswari, L. P. (2016). Persepsi Guru SD Terhadap Penelitian Tindakan Kelas. Mimbar Sekolah Dasar, Vol 3(1), 53- 68, DOI: 10.17509/mimbar-sd.v3i1.2355.
Prasetyo, I. (2011). Telaah Teoretis Model Experiential Learning dalam Pelatihan. Retrieved from Universitas Negeri Yokyakarta: http://staffnew.uny.ac.id/upload/132310875/penelitian/jurnal+TP+2011+Telaah+Experiential+Learning. pdf
Pusdiklat Tenaga Teknis Pendidikan dan Keagamaan. (2018). Dokumen II Kurikulum Diklat Teknis Substantif Pendidikan. Jakarta: Pusdiklat Tenaga Teknis Pendidikan dan Keagamaan.
Rusman. (2017). Belajar & Pembelajaran: Berorientasi Standar Proses Pendidikan. Jakarta: Kencana.
Saidan, L. (2020). Penerapan Discovery Learning dalam Mewujudkan Pembelajaran Efektif. Andragogi, 366-378, doi : 10.36052/andragogi.v8i1.136.
Sanjaya, W. (2016). Penelitian Tindakan Kelas. Jakarta: PranadaMedia. Silberman, M. (2005). 101 Ways to Make Training Active. USA: Preiffer.
Sisakhti, R. (1998). Effective Learning Environments. Alexandria: American Society for Training and Development.
Sugiyono. (2007). Statistika untuk Penelitian. Bandung: CV Alfabeta. Suparno. (2000). Langkah-langkah Penulisan Artikel Ilmiah. Dalam A. Saukah, & M. Waseno, Menulis Artikel untuk Jurnal Ilmiah. Malang: UM Press.
Tea, T. (2009). Inspiring Teaching: Mendidik Penuh Inspirasi. Jakarta: Gema Insani.
Trisdiono, H. (2015, Juni 15). Analisis Kesulitan Guru dalam Melaksanakan Penelitian Tindakan Kelas. Retrieved from LPMP DIY: https://lpmpjogja.kemdikbud.go.id/
UPI, T. P. (2007). Ilmu dan Aplikasi Pendidikan. Bandung: Imperial Bakti Utama.
Wessels, M. (2005). Experiential Learning: Preparing Learners for Experiential Learning and Graduate Placement. Lansdowne: Juta and Company Ltd.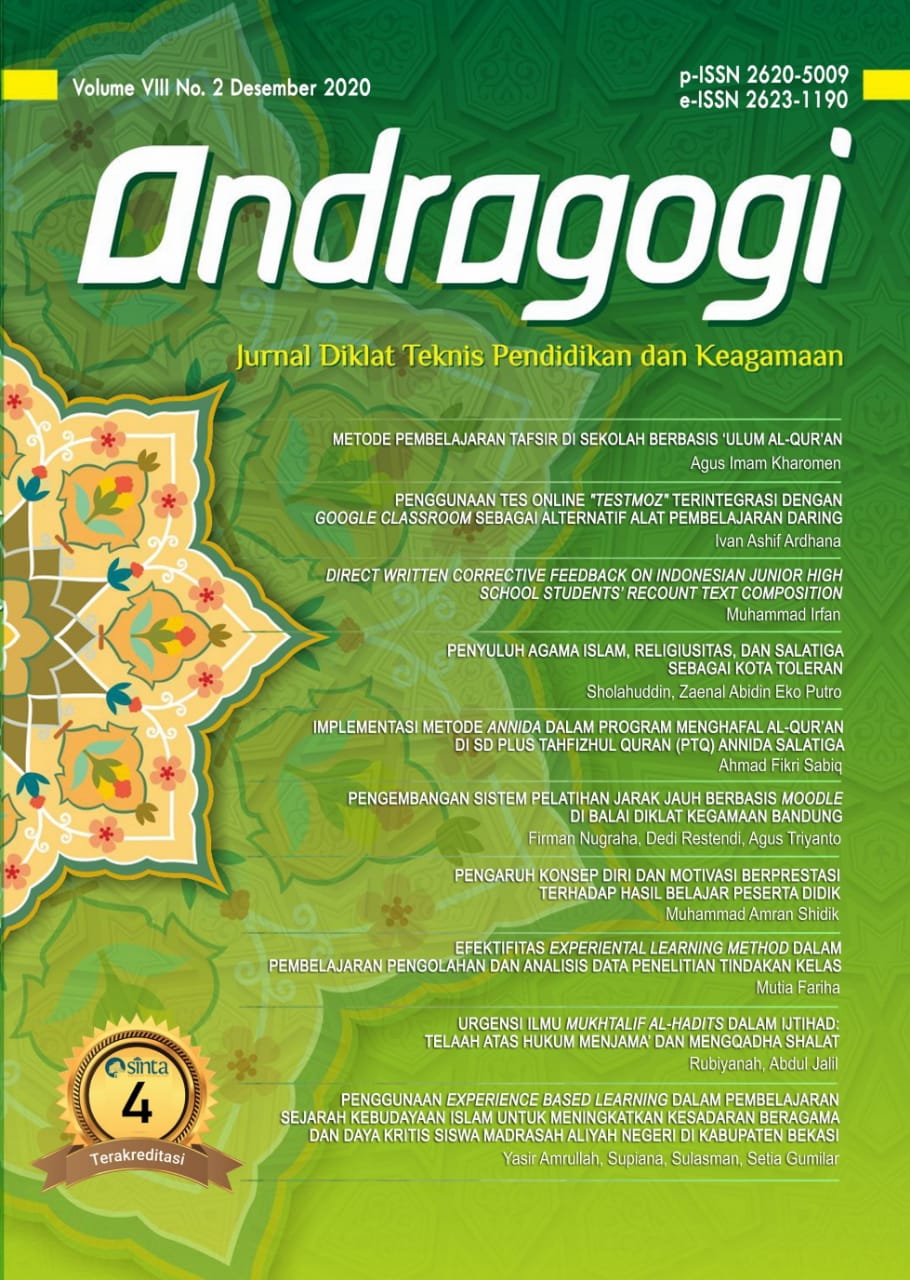 Copyright (c) 2020 Mutia Fariha
This work is licensed under a Creative Commons Attribution-NonCommercial 4.0 International License.
Authors who publish with this journal agree to the following terms:
Authors retain copyright and grant the journal right of first publication with the work simultaneously licensed under a Creative Commons Attribution License that allows others to share the work with an acknowledgment of the work's authorship and initial publication in this journal.
Authors are able to enter into separate, additional contractual arrangements for the non-exclusive distribution of the journal's published version of the work (e.g., post it to an institutional repository or publish it in a book), with an acknowledgment of its initial publication in this journal.
Authors are permitted and encouraged to post their work online (e.g., in institutional repositories or on their website) prior to and during the submission process, as it can lead to productive exchanges, as well as earlier and greater citation of published work (See The Effect of Open Access).