Penanaman Adab terhadap Al-Qur'an bagi Para Siswa di SD Plus Tahfizhul Quran Annida Salatiga
Devia Namira

IAIN Salatiga

Ahmad Fikri Sabiq

IAIN Salatiga
DOI:
https://doi.org/10.36052/andragogi.v9i2.245

Abstract Views: 399 |
PDF Downloads: 222
Keywords:
education, adab, al-Qur'an
Abstract
[CULTIVATING ADAB TOWARDS THE QUR'AN FOR STUDENTS AT SD PLUS TAHFIZHUL QURAN ANNIDA SALATIGA] This study aims to determine the implementation of the cultivation of the Qur'anic adab which was carried out at PTQ Annida Elementary School Salatiga. This research is field research with a qualitative approach. Data collection techniques in this study were interviews, observation, and documentation. This study uses qualitative analysis, with a taxonomic analysis model. Adab is learning related to aspects of behavior and values, both in terms of individuals and society. There are many ways to instill etiquette in children, including the hiwar method, the uswatun hasanah method, the riyadhah method, the Ibrah method, and the story, the mau'idzah method, the targhib and tarhib methods as well as the Qur'anic and prophetic proverb methods. While some of the memorizations of the Qur'an that is instilled in children are to build a good relationship with the creator, avoid useless actions, build respect for the Qur'an as a holy book.
References
Ahsin, w Alhafidz. (2000). Bimbingan Praktis Menghafal Alquran. Jakarta: Bumi Aksara.
Al-Attas. (1996). Konsep Pendidikan Dalam Islam. Terj. Dari Bahasa Inggris Oleh Haidar Bagis. Bandung: Mizan.
Ali, Zainuddin. (2011). Pendidikan Agama Islam. Jakarta: Bumi Aksara.
Almutaqi, and Muhamad Ilzam Syah. (2013). Konsep Pendidikan Akhlak Menurut Hasyim Asy'ari Dalam Kitab Abab Al'Alim Wa Muta'allim. Salatiga: STAIN Salatiga.
Arifin, H. Meter. (2011). Ilmu Pendidikan Islam: Tinjauan Teoretis Dan Praktis Berdasarkan Pendekatan Interdisipliner. Jakarta: Bumi Aksara.
Gunawan, Heri. (2012). Pendidikan Karakter Konsep Dan Implementasi. Bandung: Alfabeta.
Imam Nawawi. (43AD). Al-Tibyan Fi Adab Hamalat Alquran. Beirut: Dar al-Nafais.
Ma'ruf, Luis; Husin, and Al-Habsyi. Kamus Al-Munjid, Al-Maktabah Al-Katulikiyah; Kamus Al Kautsar. Surabaya: Beirut; Assegraff.
Muazzir, Akhmad Alim, and Anung Al-Hamat. (2019). "Penanaman Adab Penghafal Al-Quran Di Sekolah Dasar Islam." Annual Conference on Islamic Education and Social Sains (ACIEDSS) 1(1): 97–104.
Murad, Mustafa. (2003). Kaifa Tahfadz Alquran. Kairo: Dar al-Fajr li al-Turats.
Pratama, M. Farhan Yoga. (2018). "Strategi Bimbingan Agama Islam Dalam Membina Akhlak Anak Asuh Di Panti Asuhan Islahul Muna Kelurahan Tingkir Tengah Kota Salatiga." IAIN Salatiga.
Sahrudin, Endang. (2012). "Pembinaan Akhlak Anak Asuh Di Panti Asuhan Se-Kabupaten Indragiri Hilir: Problematika Dan Solusinya." UIN Sultan Syarif Kasim Riau.
Salam, Burhanuddin. (2000). Etika Sosial (Asas Moral Dalam Kehidupan Manusia). Jakarta: PT Rineka Cipta.
Sitika, Achmad Junaedi. (2018). "Pembentukan Akhlak Al Karimah Pada Anak Usia Dini." Al Hikmah: Indonesian Journal of Early Childhood Islamic Education 2(1): 1–12.
Sugiyono. (2015). Metode Penelitian Pendidikan: Pendekatan Kuantitatif, Kualitatif Dan R&D. Bandung: Alfabeta.
Sukron, Muhammad, and Zaki. (2009). Menghafal Al-Qur"an Itu Gampang. Yogyakarta: Mutiara Media.
Suwaid, M, and Nur Abdul Hafizh. (2010). Prophetic Parenting. Yogyakarta: Pro-U Media.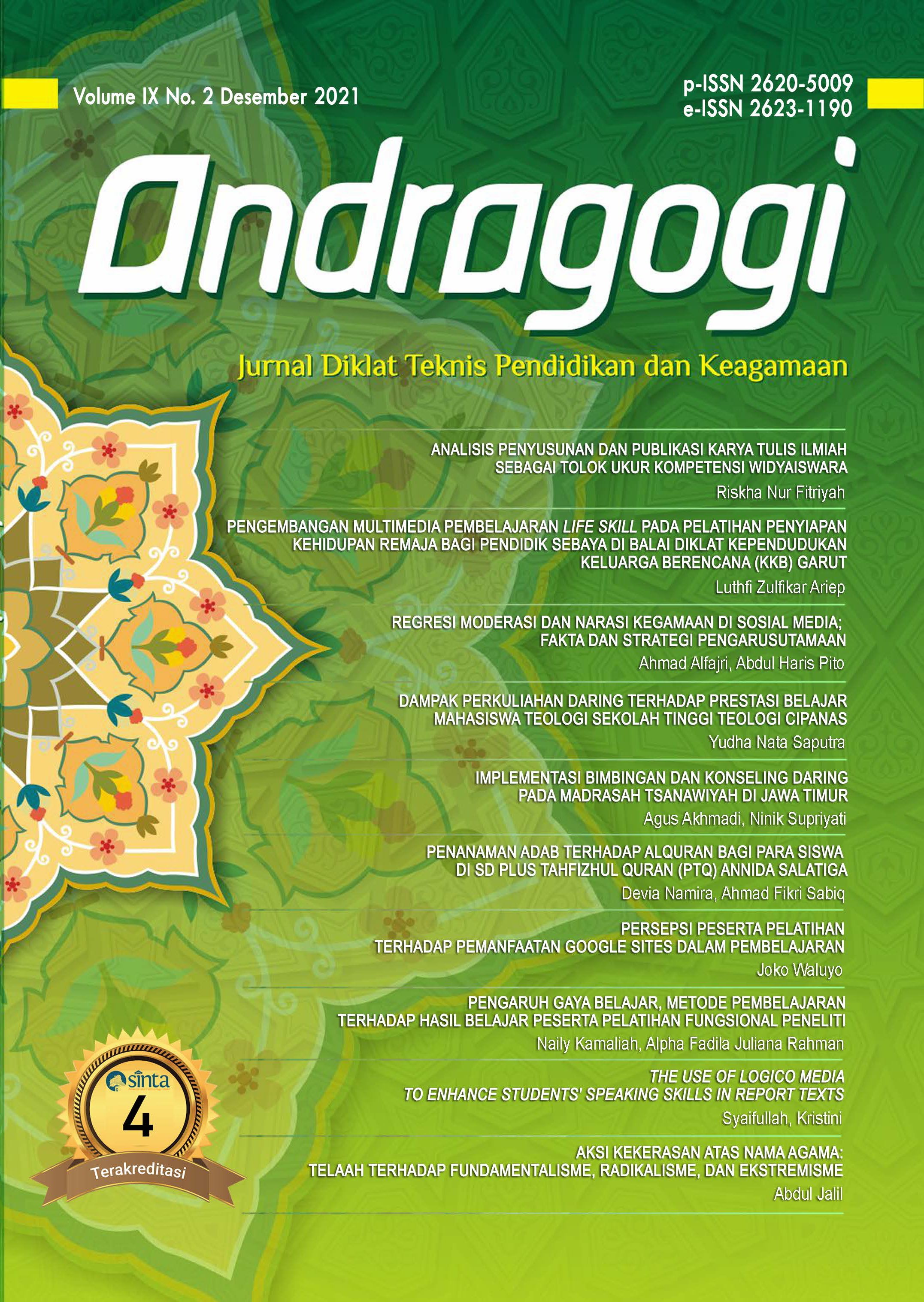 Copyright (c) 2021 Devia Namira, Ahmad Fikri Sabiq
This work is licensed under a Creative Commons Attribution-NonCommercial 4.0 International License.
Authors who publish in this journal agree to the following terms:
Authors retain copyright and grant the journal right of first publication with the work simultaneously licensed under a Creative Commons Attribution-NonCommercial 4.0 International License that allows others to share the work with an acknowledgment of the work's authorship and initial publication in this journal.
Authors are able to enter into separate, additional contractual arrangements for the non-exclusive distribution of the journal's published version of the work (e.g., post it to an institutional repository or publish it in a book), with an acknowledgment of its initial publication in this journal.
Authors are permitted and encouraged to post their work online (e.g., in institutional repositories or on their website) prior to and during the submission process, as it can lead to productive exchanges, as well as earlier and greater citation of published work (See The Effect of Open Access).