Persepsi Peserta Pelatihan Terhadap Pemanfaatan Google Sites Dalam Pembelajaran
Joko Waluyo

Balai Diklat Keagamaan Papua
DOI:
https://doi.org/10.36052/andragogi.v9i2.246

Abstract Views: 337 |
PDF Downloads: 321
Keywords:
perception, training, google sites
Abstract
[TRAINING PARTICIPANTS' PERCEPTIONS OF USING GOOGLE SITES IN LEARNING] The rapid development of internet technology in the digital era facilitates all activities of human life without exception in the field of training which has easy access in optimizing learning. One of the internet technologies that can be implemented in the application of learning during the COVID-19 period is by utilizing Google sites. The purpose of this study was to determine the trainees' perceptions of the use of google sites in learning. This study uses a survey method approach with a descriptive nature which aims to describe the circumstances or phenomena that occur. The results of the study indicate that multimedia-based learning media training with google sites is very necessary for participants in online learning and is useful for participants to provide subject matter to students because the content on google sites can be adapted to the needs of the learning process.
References
Arief, R. (2017). Aplikasi Presensi Siswa Online Menggunakan Google Forms, Sheet, Sites, Awesome Table dan Gmail. Seminar Nasional Sains Dan Teknologi Terapan V 2017, 137–144. https://core.ac.uk/download/pdf/289705217.pdf
Ferismayanti. (2012). Mengoptimalkan Pemanfaatan Google Sites dalam Pembelajaran Jarak Jauh Oleh: Ferismayanti, M.Pd. 1–12.
Harsanto, B. (2012). Panduan E-Learning Menggunakan Google Sites. 3.
Hidayati, R. (2018). Peran Widyaiswara Dalam Pengembangan Kompetensi Melalui E-learning Menuju ASN 4.0. E-Prosiding Seminar Nasional " Inovasi Menuju Corporate University" ISSN: 26230267.
Ningsih, S. (2020). Persepsi Mahasiswa Terhadap Pembelajaran Daring Pada Masa Pandemi Covid-19. JINOTEP (Jurnal Inovasi Dan Teknologi Pembelajaran): Kajian Dan Riset Dalam Teknologi Pembelajaran, 7(2), 124–132. https://doi.org/10.17977/um031v7i22020p124
Placas, C. D. E. (2015). No analisis Persepsi Konsumen Pada Produk Perumahan Di PT. Cipta Jaya Inhil Di Tembilahan.Title. 2015(1), 1–239.
Widarto, Pardjono, & Widodo, N. (2012). Pengembangan model pembelajaran. Cakrawala Pendidikan, XXXI(3), 409–423.
Yusuf, N. (2009). Nurminah Yusuf Magister Administrasi Rumah Sakit Program Pasca Sarjana.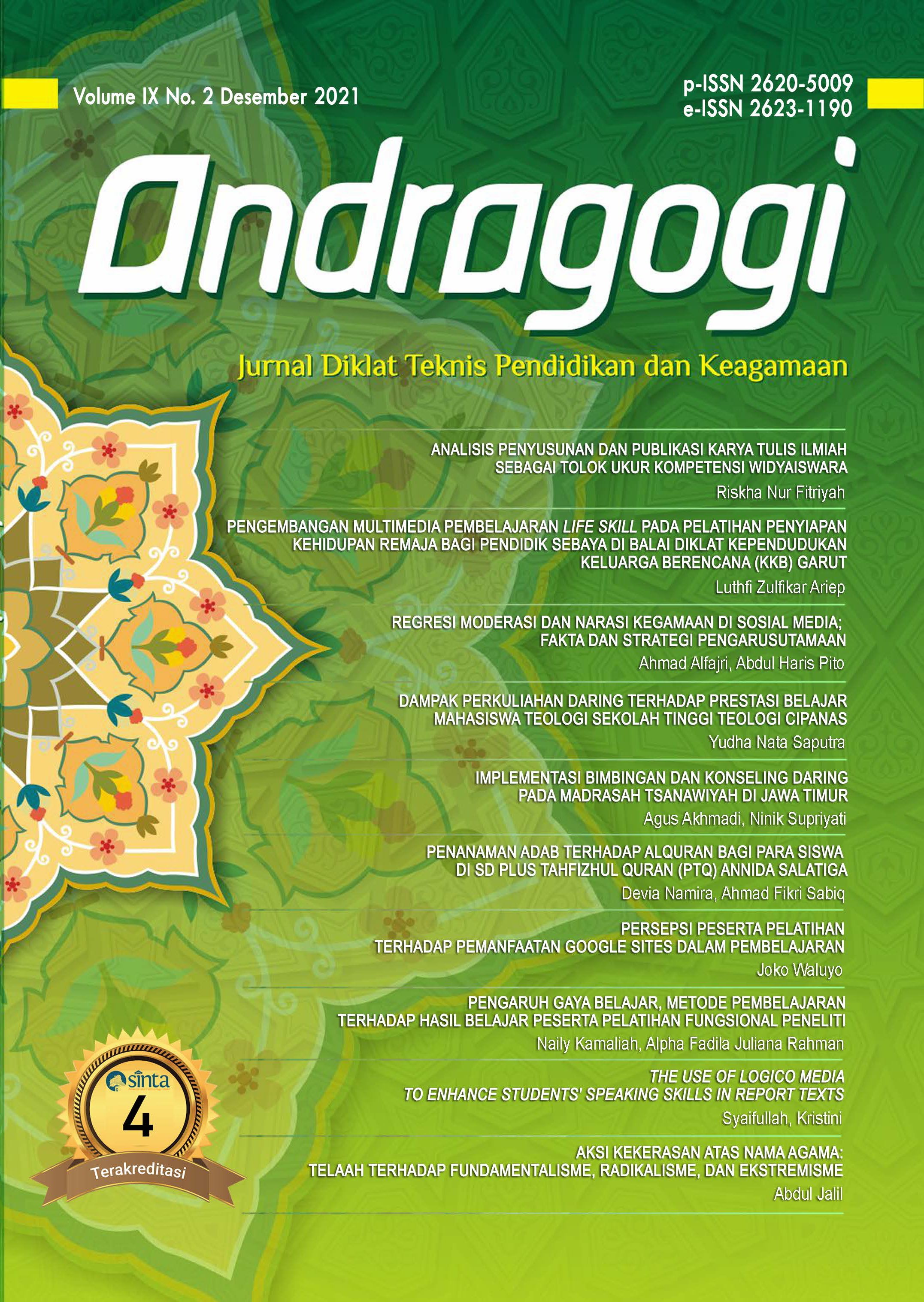 Copyright (c) 2021 Joko Waluyo
This work is licensed under a Creative Commons Attribution-NonCommercial 4.0 International License.
Authors who publish with this journal agree to the following terms:
Authors retain copyright and grant the journal right of first publication with the work simultaneously licensed under a Creative Commons Attribution License that allows others to share the work with an acknowledgment of the work's authorship and initial publication in this journal.
Authors are able to enter into separate, additional contractual arrangements for the non-exclusive distribution of the journal's published version of the work (e.g., post it to an institutional repository or publish it in a book), with an acknowledgment of its initial publication in this journal.
Authors are permitted and encouraged to post their work online (e.g., in institutional repositories or on their website) prior to and during the submission process, as it can lead to productive exchanges, as well as earlier and greater citation of published work (See The Effect of Open Access).