Using Logico Media to Enhance Students' Speaking Skills in Report Texts
Syaifullah

Balai Diklat Keagamaan Banjarmasin

Kristini

MTs Negeri 1 Kotawaringin Timur Sampit
DOI:
https://doi.org/10.36052/andragogi.v9i2.248

Abstract Views: 76 |
PDF Downloads: 54
Keywords:
Speaking English, Report Text, Logico Media
Abstract
Research on the use of Logico media to improve students' speaking skills in report text for high school students is still rarely done. Therefore, the purpose of this research is to describe and evaluate the effectiveness of Logico media in improving English proficiency in Report Text in class IX students of Room 1 MTs Negeri (State Islamic junior high school) 1 Kotawaringin Timur. This type of research is Classroom Action Research which is carried out in two cycles. Each cycle consists of 3 meetings with research procedures starting from planning, implementing, observing, and reflecting. The subjects of this study were 31 students of Class IX Room 1 MTs Negeri 1 Kotawaringin Timur. The data in this study were obtained through tests, observations, interviews, and documentation. The data were then descriptively, quantitatively, and qualitatively analyzed. This study's findings show that Logico Media helps students in Room 1 of MTs Negeri 1 Kotawaringin Timur's Class IX improve their speaking skills and learning outcome. English-speaking skills increased from 19.84 percent to 85.64 percent by the end of cycle 2, while classical learning outcomes reached 100% with a percentage increase from 48.39 percent to 100 percent by cycle 2
References
Arikunto, Suharsini. (2008). Penelitian Tindakan Kelas. Jakarta: Bumi Aksara.
Azizah, R. (2019). Students' Ability in Writing Report Text of Grade XI at SMK Negeri 1 Painan. Jurnal Ilmiah Universitas Batanghari Jambi, 19(2). https://doi.org/10.33087/jiubj.v19i2.614
Batubara, M. H., Rahila, C. D. I., & Rahmadani, P. (2021). An Analysis on The Students' Error in Writing Report Text at Eight Grade Students of SMPN 6 Timang Gajah. Jurnal As-Salam, 5(1). https://doi.org/10.37249/assalam.v5i1.237
Becker, C., & Roos, J. (2016). An approach to creative speaking activities in the young learners' classroom. Education Inquiry, 7(1). https://doi.org/10.3402/edui.v7.27613
Conny, C., & Devita, R. (2019). The Effect of Round Table Technique On Students' Ability In Writing Report Text of Nineth Grade Of SMP Pabaku Stabat In Academic Year 2018/2019. Jurnal Serunai Bahasa Inggris, 11(2). https://doi.org/10.37755/jsbi.v11i2.146
Dinamika, S. G., & Hanafiah, R. (2019). Syntactical Error Analysis On Report Text. JOALL (Journal of Applied Linguistics & Literature), 4(2). https://doi.org/10.33369/joall.v4i2.7681
Djumingin, S. (2017). The Practice of Lesson Study Model in Teaching Writing Report Text. Journal of Education and Learning (EduLearn), 11(1). https://doi.org/10.11591/edulearn.v11i1.4315
Florentina Robert, N., & Syahtia Pane, W. (2020). Teacher's Strategies in Teaching English Speaking to Young Learners. Borneo Educational Journal (Borju), 2(2). https://doi.org/10.24903/bej.v2i2.627
Muftiani, N. (2015). Motivating Factors of Students' Reading Report Text In Reading Explorer Book as Learning Source for The 7th Grade of SMP Nasional 3 Bahasa Putera Harapan Purwokerto. Exposure Journal, 4(2).
Owen, E. A., Razali, A. B., Samad, A. A., & Noordin, N. (2019). Enhancing Libyan students' english speaking performance through language game and information gap activities. Problems of Education in the 21st Century, 77(1). https://doi.org/10.33225/PEC/19.77.110
Pujianto, D., Emilia, E., & Sudarsono, M. I. (2014). A process-genre approach to teaching writing report text to senior high school students. Indonesian Journal of Applied Linguistics, 4(1). https://doi.org/10.17509/ijal.v4i1.603
Purnamu, C. H. E., & Priyana, J. (2020). Improving the speaking learning process to the students of grade VIII through games. Lingua Pedagogia, Journal of English Teaching Studies, 2(1). https://doi.org/10.21831/lingped.v2i1.23751
Rahmi, Y., & Ratmanida. (2014). The use of discovery learning strategy in teaching reading report texts to senior high school students. Journal of English Language Teaching, 3(1).
Rizky, R., & Zainil, Y. (2021). The Use of the Bits and Pieces Game on Students' Achievement on Writing Report Text. AL-ISHLAH: Jurnal Pendidikan, 13(1). https://doi.org/10.35445/alishlah.v13i1.463
Signes Gregori, C. (2015). Robin Digital Education Review-Number 30. Journal on English as a Foreign Language, 2(1).
Srinivas, P. R. (2019). The Importance of Speaking Skills in English Classrooms. Alford Council of International English & Literature Journal(ACIELJ), Vol 2(Issue 2).
Yulianti, E., & Setiawan, E. (2019). Improving Students' Reading Comprehension Through Reciprocal Teaching Strategy On Report Text. PROJECT (Professional Journal of English Education), 2(5). https://doi.org/10.22460/project.v2i5.p601-607
Zuhriyah, M. (2017). Storytelling to improve students' speaking skill. Jurnal Tadris Bahasa Inggris.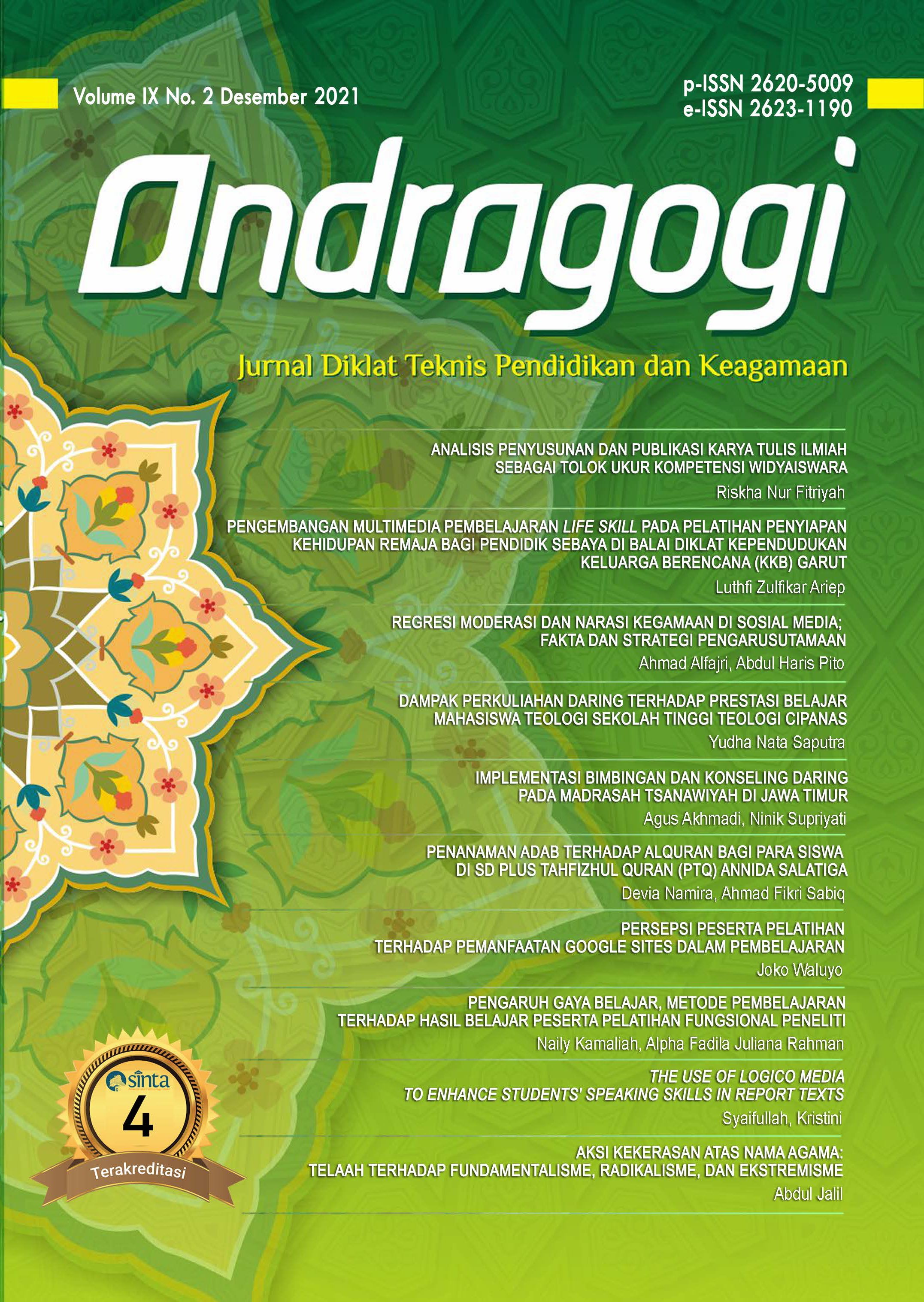 Copyright (c) 2021 Syaifullah, Kristini
This work is licensed under a Creative Commons Attribution-NonCommercial 4.0 International License.
Authors who publish with this journal agree to the following terms:
Authors retain copyright and grant the journal right of first publication with the work simultaneously licensed under a Creative Commons Attribution License that allows others to share the work with an acknowledgment of the work's authorship and initial publication in this journal.
Authors are able to enter into separate, additional contractual arrangements for the non-exclusive distribution of the journal's published version of the work (e.g., post it to an institutional repository or publish it in a book), with an acknowledgment of its initial publication in this journal.
Authors are permitted and encouraged to post their work online (e.g., in institutional repositories or on their website) prior to and during the submission process, as it can lead to productive exchanges, as well as earlier and greater citation of published work (See The Effect of Open Access).