Aksi Kekerasan Atas Nama Agama
Telaah Terhadap Fundamentalisme, Radikalisme, dan Ekstremisme
Abdul Jalil

Badan Penelitian dan Pengembangan serta Pendidikan dan Pelatihan Kementerian Agama
DOI:
https://doi.org/10.36052/andragogi.v9i2.251

Abstract Views: 570 |
PDF Downloads: 3017
Keywords:
Fundamentalism, Radicalism, Extremism
Abstract
[VIOLENCE IN THE NAME OF RELIGION: A STUDY OF FUNDAMENTALISM, RADICALISM, AND EXTREMISM] This paper will examine fundamentalism, radicalism, and extremism based on a historical view to examine the root of the problem. The method used in this paper is a qualitative descriptive approach through historical-critical studies. The expected output of this study is an informative contribution so that it can put the right paradigm in viewing acts of violence with religious nuances. The terms fundamentalism and radicalism in the Western perspective are often associated with extreme attitudes, old-fashioned, stagnation, conservative, anti-Western, and hard to defend opinions, even with physical violence. The use of the term radicalism or fundamentalism for Muslims is not appropriate, because the radicalism movement is very contrary to Islamic teachings. The symptom of violent practices carried out by a group of Muslims, historically-sociologically, is more appropriate as a socio-political symptom than a religious phenomenon, even though they are waving religious banners. Terrorism is the anti-climax of extreme tendencies in views and attitudes.
References
Abdulloh, Nur Wahid, "Fundamentalisme", https://nurwahidabdulloh.wordpress.com/keagamaan/fundamentalisme/, diakses 1 April 2021.
Kevin Adrian. (2021). "Sering Dianggap Sama, Ini Perbedaan Ilusi, Delusi, dan Halusinasi," 24 April 2021, https://www.alodokter.com/sering-dianggap-sama-ini-perbedaan-ilusi-delusi-dan-halusinasi, diakses 15 Juni 2021.
Ahdar. (2017). "Tinjauan Kritis dan Menyeluruh Terhadap Fundamentalisme dan Radikalisme Islam Masa Kini, Jurnal Kuriositas, Vol. 11, No. 1, Juni 2017.
Al-Zastrouw Ng. (2006), Gerakan Islam Simbolik: Politik Kepentingan FPI, Yogyakarta: LKiS.
Armstrong, Karen. (2001). Berperang Demi Tuhan: Fundamentalime dalam Islam, Kristen dan Yahudi (terjemahan) Satrio Wahono, Muhammad Helmi dan Abdullah Ali, Bandung: Mizan.
________.(2011). Masa Depan Tuhan: Sanggahan terhadap Fundamentalisme dan Ateisme, Bandung: Mizan.
'Asqalani, Ibn Hajar. (1988) al, Fath al-Bari, Kairo: Dar al-Rayyan Li al-Turats, Jilid 12.
Azra, Azyumardi. (1996). Pergolakan Politik Islam dari Fundamentalisme, Modernism, hingga Postmodernisme, Jakarta: Paramadina.
Damayanti, Angel. (2018). "Radikalisme Pada Komunitas Non-Islam," Universitas Kristen Indonesia.
Departemen Pendidikan dan Kebudayaan. (1999) Kamus Besar Bahasa Indonesia, Jakarta: Balai Pustaka, Cet. ke-10.
Esposito, John L. (1992). The Islamic Threat: Myth or Reality, New York: Oxford University Press.
Gelner, Ernest, Muslim Society. (1981). Ahmad Saifuddin, "Islam, Radikalisme, dan Terorisme," 31 Mei 2016, http://wahidfoundation.org/index.php/news/detail/Islam-Radikalisme-dan-Terorisme, diakses 10 Maret 2021.
Gottschalk, Louis. (1956). Understanding History: A Primer of Historical Method, New York: Alfred A. Knopf.
Hadimulyo. (1993). "Fundamentalisme Islam: Istilah yang dapat menyesatkan," Ulumul Qur'an, 3,
Hanafi, Hasan. (1996). Al-Yamin wa al-Yasar fi al-Fikr al-Dini, Kairo: Daral-Tsaqafah.
Huntington, Samuel P. (1993). "Benturan Peradaban, Masa Depan Politik Dunia," dalam Ulumul Qur'an: Jurnal Ilmu dan Kebudayaan, Jakarta: Lembaga Studi Agama dan Filsafat (LSAF), Vol. 4, No. 5.
Imarah, Muhammad. (1999). Fundamentalisme Dalam Perspektif Barat dan Islam, Terjemahan Abdul Hayyie al-Kattani, Jakarta: Gema Insani Press.
Jainuri, Achmad. (2004). Orientasi Ideologi Gerakan Islam, Surabaya: LPAM.
Juergensmeyer, Mark. (1998). Menentang Negara Sekuler, terj. Noorhaidi, Bandung: Mizan.
Kartodirdjo, Sartono. (1977). "Metode Penggunaan Dokumen" dalam Koentjaraningrat (redaktur), Metode-Metode Penelitian Masyarakat, Jakarta: Gramedia.
Ma'arif, Syafi'i. (2009). Ilusi Negara Islam, Ekspansi Gerakan Transnasional di Indonesia, Ahmad Saifuddin,
"Islam, Radikalisme, dan Terorisme," 31 Mei 2016, http://wahidfoundation.org/index.php/news/detail/Islam-Radikalisme-dan-Terorisme, diakses 10 Maret 2021.
Madjid, Nurcholish Madjid, Pintu-PintuMenuju Tuhan, Jakarta: Paramadina.
Mahendra, Yusril Ihza. (1999). Modernisme dan Fundamentalisme dalam Politik Islam, (Perbandingan Partai Masyumi Indonesia dan Partai Jama'at Islami Pakistan), Terj. Mun'im A Sirry, Jakarta: Paramadina.
Manzhur, Ibn. (1995). Lisan al-'Arab, Bairut: Dar al-Ihya Turats al-'Arabi, Jilid 15,
Masruri, Hadi. (2018). "Ekstrimisme dan Fundamentalisme: Mencari Akar Persoalan Kekerasan dalam Beragama," dalam Mohammad Karim (Ed.), Memutuskan Mata Rantai Ekstremisme Agama, Malang: UIN Maliki.
Merriam-Webster Dictionary, https://buruhmigran.or.id/2018/10/09/%EF%BB%BFapa-itu-radikalisme-radikalisasi-ekstrimisme-dan-terorisme/, diakses 20 Mei 2021.
Mudhofir dan Syamsul Bakri. (2005). Memburu Setan Dunia, Ikhtiyar Meluruskan Persepsi Barat dan Islam tentang Terorisme.
Namda, Dendy. (2020). "Representasi Etnis Muslim Rohingya di Media Massa Islam," Ishlah: Jurnal Ilmu Ushuluddin, Adab dan Dakwah Vol. 2 No. 1, Juni 2020.
Nafis, Muhammad Wahyuni. (1996). Rekonstruksi dan Renungan Religius Islam, Jakarta: Paramadina.
Nuhrison, M. Nuh. (2009). "Faktor-Faktor Penyebab Munculnya Faham/Gerakan Islam Radikal di Indonesia," Harmoni: Jurnal Multikultural & Multireligius, Vol. VIII, Nomor 30, April- Juni 2009.
Nurish, Amanah. (2019). "Dari Fanatisme ke Ekstremisme: Ilusi, Kecemasan, dan Tindakan Kekerasan," Jurnal Masyarakat & Budaya, Volume 21, No, 1, Tahun 2019.
Oxford Learner's. (1995). Pocket Dictionary, New York: Oxford University Press.
Qardhawi, Yusuf al. (2001). al-Sahwah al-Islamiyyah: Baina al-Juhad wa al-Tatarruf, Kairo: Bank at-Taqwa.
QS al-Baqarah/2:256; QS al-Hujurat/49:13; QS al-Baqarah/2:120; QS al-Ma'idah/5:44;
Republika, Sabtu, 2 Agustus 2014.
Rijal, Syamsul. (2010). Radikalisme Islam Klasik Dan Kontemporer: Membanding Khawarij Dan Hizbut Tahrir, Jurnal AL-FIKR, Volume 14, Nomor 2, Tahun 2010.
Said, Hasani Ahmad dan Fathurrahman Rauf. (2015). "Radikalisme Agama dalam Perspektif Hukum Islam," Jurnal Al-'Adalah, Vol. XII, No. 3, Juni 2015.
Schmid, Alex P. (2014). Radicalisation, De-Radicalisation, Counter-Radicalisation: A Conceptual Discussion and Literature Review
Shihab, M. Quraish, Dr. (1996). Wawasan Al-Qurán, Bandung: Mizan, Cet. ke-3.
Sudaryono. (2017). Metodologi Penelitian, Depok: PT. Raja Grafindo Press.
Taufani. (2019). "Radikalisme Islam: Sejarah, Karakteristik, dan Dinamika dalam Masyarakat Multikultural di Indonesia," Jurnal Asketik, Vol. 3, No. 2, Desember 2019.
Thomas, Scott M. (2005). The Global Resurgence of Religion and The Transformation of International Relation, The Struggle for the Soul of the Twenty-First Century. Undang-Undang Nomor 5 Tahun 2018.
Zainuddin, M. (2015). "Agama: Antara Fundamentalis dan Moderat," 27 November 2015, https://uin-malang.ac.id/r/151101/agama-antara-fundamentalis-dan-moderat.html, diakses 1 April 2021.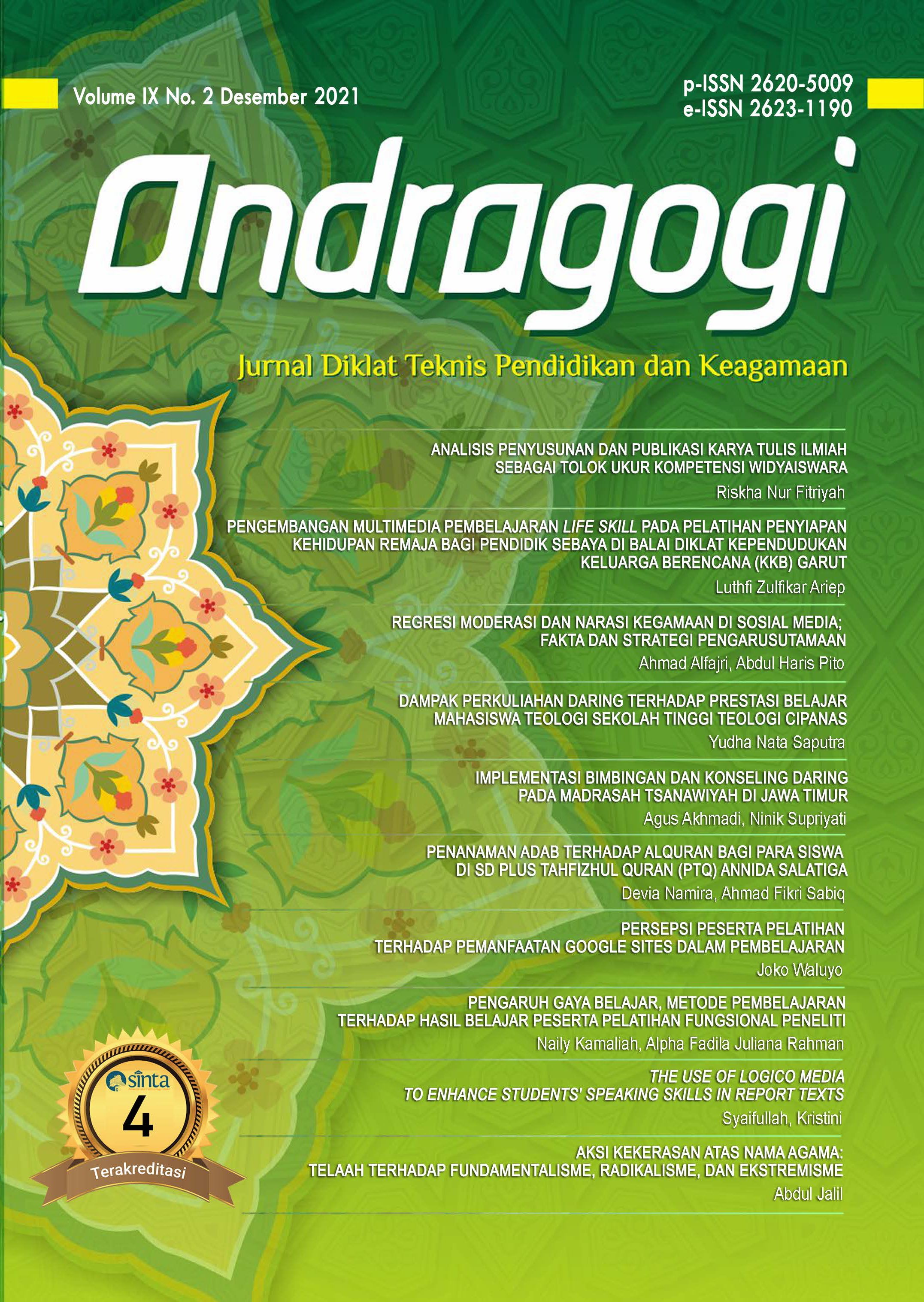 Copyright (c) 2021 Abdul Jalil
This work is licensed under a Creative Commons Attribution-NonCommercial 4.0 International License.
Authors who publish in this journal agree to the following terms:
Authors retain copyright and grant the journal right of first publication with the work simultaneously licensed under a Creative Commons Attribution-NonCommercial 4.0 International License that allows others to share the work with an acknowledgment of the work's authorship and initial publication in this journal.
Authors are able to enter into separate, additional contractual arrangements for the non-exclusive distribution of the journal's published version of the work (e.g., post it to an institutional repository or publish it in a book), with an acknowledgment of its initial publication in this journal.
Authors are permitted and encouraged to post their work online (e.g., in institutional repositories or on their website) prior to and during the submission process, as it can lead to productive exchanges, as well as earlier and greater citation of published work (See The Effect of Open Access).