Analisis Tingkat Harapan dan Kepuasan Terhadap Kualitas Pelayanan Penyelenggaraan Diklat Teknis Fungsional Guru Tingkat Madya IPS Madrasah Tsanawiyah
Aminullah Aminullah

Widyaiswara Ahli Madya Pusdiklat Tenaga Teknis Pendidikan dan Keagamaan
DOI:
https://doi.org/10.36052/andragogi.v6i2.55

Abstract Views: 69 |
PDF Downloads: 55
Keywords:
Analisis, harapan, kepuasan, kualitas pelayanan
Abstract
Tujuan penelitian ini adalah untuk mengetahui penilaian peserta Diklat, apa saja yang belum terpenuhi terhadap penyelenggaraan diklat, untuk menganalisis faktor-faktor penentu tingkat harapan dan kepuasan peserta diklat terhadap penyelenggaraan diklat. Metode yang dipergunakan dalam penelitian ini adalah deskriptif kualitatif dengan pendekatan Importance Performance Analysis (IPA), dengan jumlah responden 60 peserta diklat teknis fungsional guru tingkat madya IPS MTs. Hasil penelitian sebagai berikut (1) penilaian peserta mengenai kualitas pelayanan penyelenggaraan diklat adalah (a) kinerja yang diberikan pihak penyelenggara belum sesuai dengan tingkat perioritas harapan peserta diklat dengan nilai rata-rata berada di antara 1,10 sampai dengan 2,95, (b) dilihat dari tingkat harapan dan tingkat kepuasan terdapat kesesuaian dengan nilai rata-rata 68,19% sampai dengan 81,73%, berarti kinerjanya sudah baik tetapi dalam pelaksanaan belum sepenuhnya sesuai dengan skala perioritas dari harapan peserta Diklat dan masih ada kinerja yang perlu ditingkatkan yakni pada variabel responsivenees (kesigapan). (2) Faktor-faktor penentu tingkat harapan dan kepuasan peserta terhadap kualitas pelayanan penyelenggaraan diklat sebagai berikut: (a) Faktor menempati janji melaksanakan pelayanan yang dijanjikan dengan tepat dan terpercaya (variabel reliability) dengan nilai rata-rata 2,95 dan (b) Faktor pengetahuan dan kemampuan widyaiswara untuk menimbulkan kepercayaan dan keyakinan dari peserta (variabel assurance) dengan nilai rata-rata 2,74.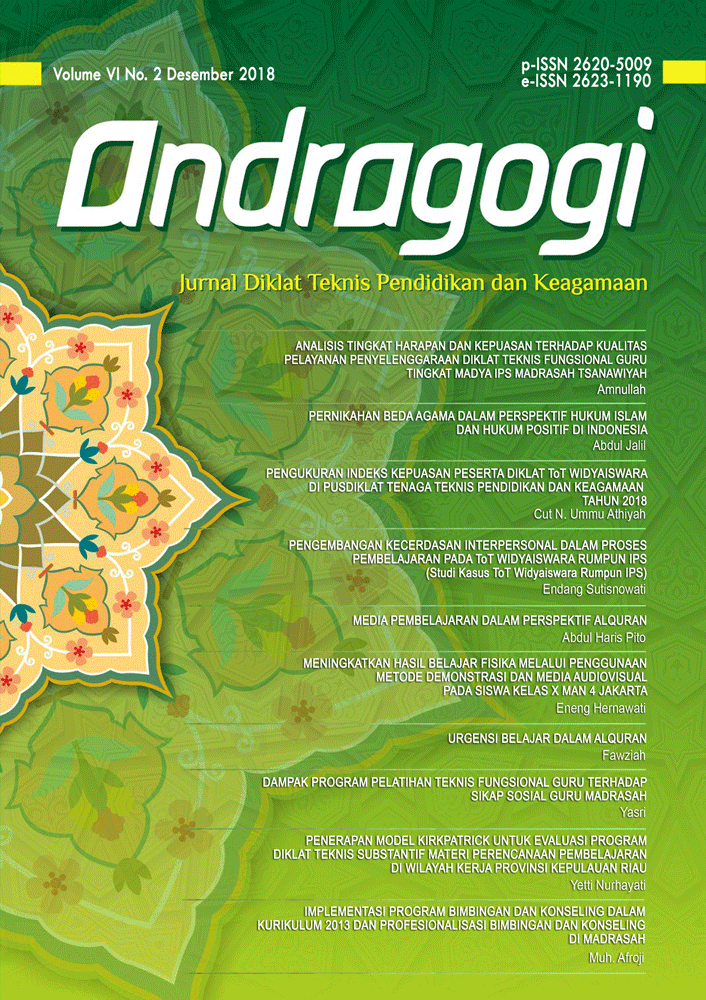 Authors who publish with this journal agree to the following terms:
Authors retain copyright and grant the journal right of first publication with the work simultaneously licensed under a Creative Commons Attribution License that allows others to share the work with an acknowledgment of the work's authorship and initial publication in this journal.
Authors are able to enter into separate, additional contractual arrangements for the non-exclusive distribution of the journal's published version of the work (e.g., post it to an institutional repository or publish it in a book), with an acknowledgment of its initial publication in this journal.
Authors are permitted and encouraged to post their work online (e.g., in institutional repositories or on their website) prior to and during the submission process, as it can lead to productive exchanges, as well as earlier and greater citation of published work (See The Effect of Open Access).