Implementasi Evaluasi Model Kirkpatrick (Level 1 dan 2) Diklat Teknis Substantif Pembina Kegiatan Ekstrakurikuler Keagamaan pada SMP di Pusdiklat Tenaga Teknis Pendidikan dan Keagamaan
Nuraini Nuraini, Mrs

Widyaiswara Ahli Muda Pusdiklat Tenaga Teknis Pendidikan dan Keagamaan
Keywords:
Evaluasi Model Kirkpatrick, Diklat, Ekstrakurikuler Keagamaan
Abstract
Penelitian ini bertujuan untuk mendeskripsikan implementasi Evaluasi Model Kirkpatrick Level 1 dan 2 Diklat Teknis Substantif Pembina Kegiatan Ekstrakurikuler Keagamaan pada SMP di Pusdiklat Tenaga Teknis Pendidikan dan Keagamaan. Level 1 dan level 2 untuk Evaluasi Model Kirkpatrick masing-masing dilakukan penilaian dengan alat penilaian yang berbeda. Tes tertulis (pre test dan post test) digunakan untuk menilai aspek pengetahuan peserta diklat. Penilaian kinerja digunakan untuk menilai aspek keterampilan peserta diklat. Metode penelitian ini adalah penelitian deskriptif kuantitatif. Sampel dalam penelitian ini adalah peserta diklat Teknis Substantif Pembina Kegiatan Ekstrakurikuler Keagamaan SMP berjumlah 30 orang yang berasal dari perwakilan Kantor Wilayah Kementerian Agama Seluruh Indonesia. Data dalam penelitian ini diperoleh dengan menggunakan angket dan observasi. Observasi dilakukan untuk mengetahui nilai sikap.  Tes tertulis digunakan untuk mengetahui tingkat pengetahuan dan kinerja digunakan untuk mengetahui tingkat keterampilan peserta. Evaluasi belajar peserta diperoleh dengan menggunakan rubrik penilaian kinerja. Hasil penelitian menggambarkan bahwa Evaluasi Model Kirkpatrick Level 1 dan Level 2 Diklat Teknis Substantif Pembina Kegiatan Ekstrakurikuler Keagamaan pada SMP sangat efektif untuk menilai tingkat kepuasaan peserta diklat dan tingkat pemahaman peserta diklat terhadap materi yang disampaikan.
References
Arikunto, S. 2006. Dasar-dasar Evaluasi Pendidikan. Jakarta: Bumi Aksara.
Griffin, P. & Nix, P. 1991. Educational Assessment and Reporting. Sydney: Harcout Brace Javanovich, Publisher.
http://www.businessballs.com/kirkpatricklearningevaluationmodel.html. diakses pada tanggal 11 April 2017.
Kennedy, E., P., Chyung, Y., S., Winiecki, J., D., & Brinkerhoff, O., R. 2013. Training professional's usage and understanding of Kirkpatrick's level 3 and level 4 evaluations. International Journal of Training and Development 18:1 ISSN 1360-3736 doi: 10.1111/ijtd.12023.
Kerlinger, F.N. 2002. Asas-asas Penelitian Behavioral. Terj. Landung R. Simatupang. Yogyakrta: Gadjah Mada University Press.
Kirkpatrick, L., D. (1979). Techniques for Evaluating Training Programs. Training and Development Journal (june 1979): 178-192.
Kirkpatrick, D., L. & Kirkpatrick J., D. 2006. Evaluating Training Program The Four Levels. San Fransisco: Berret-Kohler Publisher, Inc.
Mc Lean, S., & Moss, G. (2003). They're Happy, but Did They make a Difference? Applying. Kirkpatrick's Framework to the Evaluation of a National Leadership Program. The Canadian Journal of Program Evaluation Vol. 18 No. 1 Pages 1-23 ISSN 0843-15-16.
Nasir. 1988. Metode Penelitian. Jakarta: Ghalia Indonesia.
Partner, C. 2009. Implementing The Kirkpatrick Evaluation Model Plus/Online. (http://www.coe.wayne.edu/eval/pdf. Diakses tanggal 12 April 2017)
Peraturan Pemerintah Republik Indonesia Nomor 101 Tahun 2000 tentang Pendidikan dan Pelatihan Jabatan Pegawai Negeri Sipil.
Peraturan Menteri Agama Nomor 75 Tahun 2015 tentang Penyelenggaraan Pendidikan dan Pelatihan Pegawai pada Kementerian Agama.
Stark, J.S. & Thomas, A. 1994. Assessment and Program Evaluation. Needham Heights: Simon & Schuster Custom Publishing.
Stufflebeam, D.L. & Shinkfield, A.J. 1985. Systematic Evaluation. Boston: Kluwer Nijhof Publishing.
Surat Keputusan Kepala Badan Litbang dan Diklat Nomor 60 Tahun 2012 tentang Standar Kediklatan Teknis Kementerian Agama.
ULUM, G., O. 2015. Program Evaluation Through Kirkpatrick's Framework. Pacific Business Review International, Volume 8, Issue 1, July 2015.
Undang-Undang Nomor 5 Tahun 2014 tentang Aparatur Sipil Negara.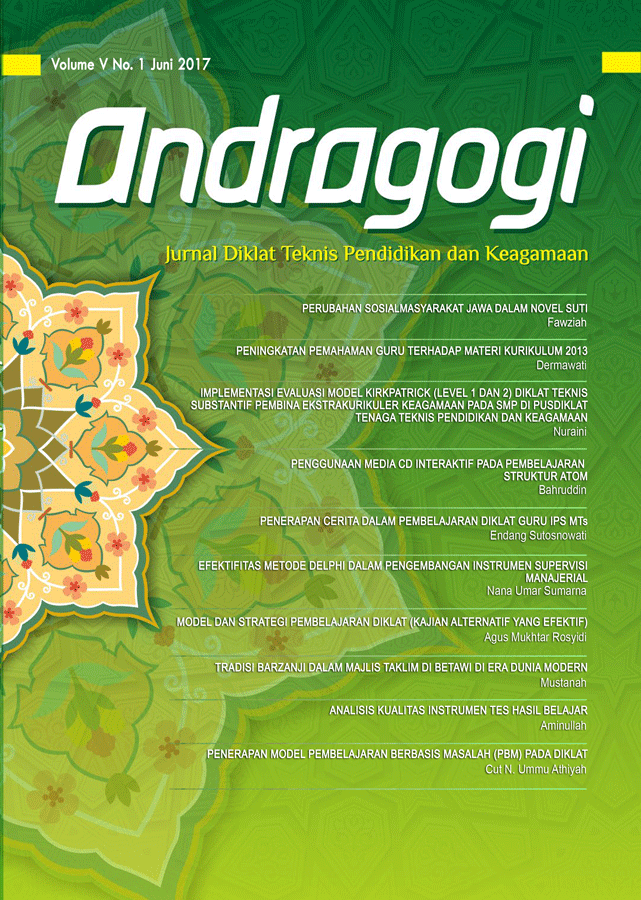 Authors who publish with this journal agree to the following terms:
Authors retain copyright and grant the journal right of first publication with the work simultaneously licensed under a Creative Commons Attribution License that allows others to share the work with an acknowledgment of the work's authorship and initial publication in this journal.
Authors are able to enter into separate, additional contractual arrangements for the non-exclusive distribution of the journal's published version of the work (e.g., post it to an institutional repository or publish it in a book), with an acknowledgment of its initial publication in this journal.
Authors are permitted and encouraged to post their work online (e.g., in institutional repositories or on their website) prior to and during the submission process, as it can lead to productive exchanges, as well as earlier and greater citation of published work (See The Effect of Open Access).