Urgensi Belajar dalam Al-Qur'an
nfn Fawziah

Widyaiswara Ahli Muda Pusdiklat Tenaga Teknis Pendidikan dan Keagamaan
DOI:
https://doi.org/10.36052/andragogi.v6i2.61

Abstract Views: 48 |
PDF Downloads: 60
Keywords:
belajar, moralitas, metode pembelajaran, Alquran, Islam
Abstract
Tulisan ini bertujuan untuk menganalisa belajar dari segi teori dan tujuannya, aspek moral dalam belajar, serta belajar dalam perspektif Alquran. Dengan menggunakan metode kepustakaan, penelitian ini mengungkap bahwa belajar merupakan sesuatu yang penting dalam kehidupan manusia. Belajar sudah harus dimulai dan dilakukan sejak anak masih dini. Dalam Islam, wahyu pertama yang turun adalah Iqra, perintah untuk membaca ayat-ayat Allah yang baik qauliyah maupun yang kauniyah. Tujuan belajar dalam Islam agar bisa melaksanakan peran dan fungsinya, yaitu; sebagai hamba Allah dan sebagai khalifatullah fil ardh Dalam Islam, hasil belajar berupa ilmu pengetahuan tidak bisa dilepaskan dari aspek moral. Moral dan pengetahuan keduanya harus menjadi perilaku dalam keseharian. Ada beberapa metode pembelajaran dalam Alquran yang bisa dipelajari oleh manusia di antaranya melalui proses berpikir, meniru, dan melatih (trial and eror). Sumber belajar dalam Alquran bisa didapatkan dalam bentuk kisah kisah nabi, dialog-dialog, perumpamaan-perumpamaan, dan lainnya. Itu semua merupakan bentuk dan sumber belajar yang bisa digunakan oleh manusia untuk mendapatkan ilmu pengetahuan. Pada akhir tulisan ini disimpulkan bawah belajar merupakan aktifitas pikir (olah otak) dan juga aktifitas fisik (perilaku) harus memiliki dampak terhadap bertambanya pengetahuan dan pengalaman. Belajar tidak bisa dilepaskan dari aspek moral karena dalam belajar ada nilai perilaku dan kebaikan yang ditanamkan. Aspek moralitas dalam belajar menurut Islam sangat penting karena semua ilmu pengetahuan pada hakekatnya milik Allah, dan tujuan belajar bukan semata untuk mendapatkan ilmu, tapi juga untuk bisa mendekatkan diri kepada Allah, mengabdi beribadah kepada-Nya, dan untuk melaksanakan tugas sebagai khalifah-Nya di muka bumi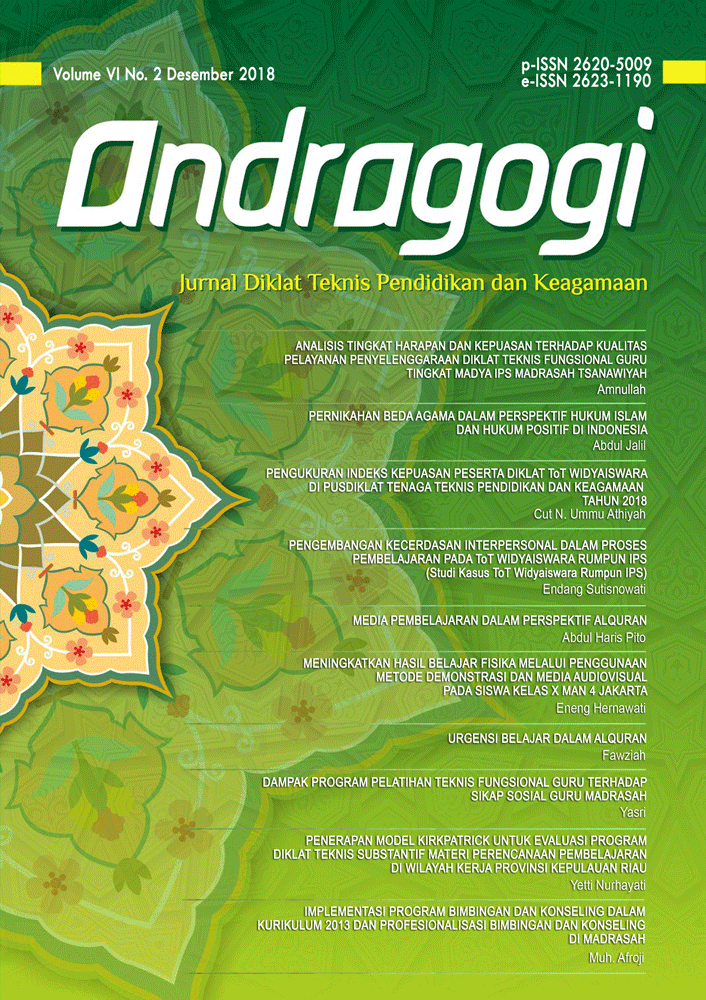 Authors who publish with this journal agree to the following terms:
Authors retain copyright and grant the journal right of first publication with the work simultaneously licensed under a Creative Commons Attribution License that allows others to share the work with an acknowledgment of the work's authorship and initial publication in this journal.
Authors are able to enter into separate, additional contractual arrangements for the non-exclusive distribution of the journal's published version of the work (e.g., post it to an institutional repository or publish it in a book), with an acknowledgment of its initial publication in this journal.
Authors are permitted and encouraged to post their work online (e.g., in institutional repositories or on their website) prior to and during the submission process, as it can lead to productive exchanges, as well as earlier and greater citation of published work (See The Effect of Open Access).