Evaluasi Pasca Diklat Guru Muda Madrasah Aspek Kompetensi
Yasri Yasri, Mr

Widyaiswara Ahli Madya Pusdiklat Tenaga Teknis Pendidikan dan Keagamaan
Keywords:
Evaluasi, Pasca Diklat, Kompetensi
Abstract
Penelitian ini bertujuan untuk mengevaluasi pasca diklat Diklat Teknis Fungsional Guru Muda Madrasah yang diselenggarakan oleh Pusdiklat Teknis Kementerian Agama. Penelitian ini menggunakan metode evaluasi dan survey.Penelitian ini dilakukan di 58 Madrasah dengan 172 responden yang merupakan alumni peserta pelatihan.Teknik pengambilan data dengan cara angket dan wawancara. Pengolahan data dilakukan dengan teknik kuantitatif dan kualitatif deskriptif. Hasil penelitian ini menunjukan bahwa alumni pelatihan mampu mengembangkan kurikulum, mengembangkan materi pembelajaran, memanfaatkan ICT untuk pengembangan diri. Hasil lain, alumni mampu  menyusun perangkat dan melaksanakan proses serta penilaian pembelajaran, menjamin kualitas perencanaan, menyelesaikan pekerjaan rutin, memecahkan masalah, meningkatkan hubungan kerja dan kerjasama, mengimplementasi hasil diklat, menerima dan memberi saran, meningkatkan kedisiplinan dan loyalitas.Namun alumni tidak menguasai karakteristik  siswa, teori belajar, tidak memanfaatkan ICT dalam pembelajaran, tidak melakukan tindakan reflektif, tidak mengimplementasikan pengetahuan dan keterampilan dalam bekerja.
References
Arikunto, Suharsimi dan Cepi Safruddin Abdul Jabar. 2014. Evaluasi Program Pendidikan: Pedoman Teoritis Bagi Mahasiswa dan Praktisi Pendidikan. Jakarta: Bumi Aksara.
Campbell Hill, Bonnie dan Cyinthia 1994. Ruptic. Pactical Aspects of Authentic Assessment. Michigan: Christophr-Gordon Pubishers, Inc,
Djaali dan Puji Mulyono. 2008. Pengukuran Dalam Bidang Pendidikan. Jakarta: PT Grasindo,
Fitzpatrick, Jody L, Blaine R. Worthen, dan James R. Sanders. 2004.. Program Evaluation: Alternative Approaches and Practical Guidelines Boston: Person Education
Gronlund, Norman E dan Robert L. Linn. 1990. Measurement and Evaluation in Teaching. New York: Mac Milan Publishing Company,
Hamzah B. Uno. 2007. Profesi Kependidikan Problema, Solusi dan Reformasi Pendidikan di Indonesia. Jakarta: Bumi Aksara.
H. A. R. Tilaar. 2002. Membenahi Pendidikan Nasional. Jakarta: PT Rineka Cipta
Michael J. Gibney, et al. 2005. Gizi Kesehatan Masyarakat, terjemahan Andry Hartono. Jakarta: Penerbit Buku Kedokteran EGC.
Owen, John M. 1993. Program Evaluation: Froms and Approaches. Sidney: Soutth wood Press,.
Peraturan Menteri Pendidikan Nasional Nomor 16 tahun 2007
Popham, W. James. 1995. Educational Evaluation. New Jersey: Printice Hall
Robert E, Stake. 2004. Standards-Based & Responsive Evaluation. California: Sage Publications.
Spaulding, Dean T, Program. 2008. Evaluation in Practice: Core Consepts and Examples for Discussion and Analysis. San Francisco: Joseey Wiley & Sons, Inc.
Stufflebeam, Daniel L. 2003. Internasional Handbook of Education. Boston: Published by Kluwer Academic Publishers,
Tayibnapis, Farida Yusuf. 2008. Evaluasi Program dan Instrumen Evaluasi: Untuk Program Pendidikan dan Penelitian. Jakarta: Rineka Cipta.
Undang- Undang Republik Indonesia Nomor 14 Tahun 2005 Tentang Guru dan Dosen,
Global Journal of Management and Business Research Volume 11 Issue 7 Version 10, July 2011. https://globaljournals.org/ GJMBR_Volume 11/8 (diakses 22 Januari 2016)
IOSR Jornal of Business and management (IOSRJBM) ISSN: 2278-487X, Volume 5, Issue 2 , 2012. PP 16-17. http://iosrjournals.org/iosr-jbm/papers/ Vol5-issue2/ B0521622.pdf (diakses 22 Januari 2016)
Journal of Public Administration and Governance ISSN 2161-7104, 2011. Vol 1 No. 2. http://www.macrothink.org/journal/index.php/jpag/article/ view/862(diakses 19 Januari 2016)
Turkish Online Journal of Qualitative Inquiry, October 2012. http:// dergipark. ulakbim.gov.tr/tojqi/article/view/ 5000093443 (diakses 19 Januari 2016)
UU No 14 tahun 2005 tentang guru dan dosen.
Keputusan Menteri Pendidikan Nasional Republik indonesia nomor 045/U/2002
Keputusan Kepala Badan Kepegawaian Negeri Nomor: 46A tahun 2003, tentang pengertian kompetensi
http://rccphttp://rccp.blogspot.com/2005/03/evaluasi-dampak-diklat-second.htm, lEvaluasi Dampak Diklat Second Professional Human Resources Development Project (PHRDP II) Bantuan JBIC IP 458, . 2016
http://xerma.blogspot.co.id/2014/02/pengertian-kompetensi-menurut-para-ahli.html (diakses 20 September 2017)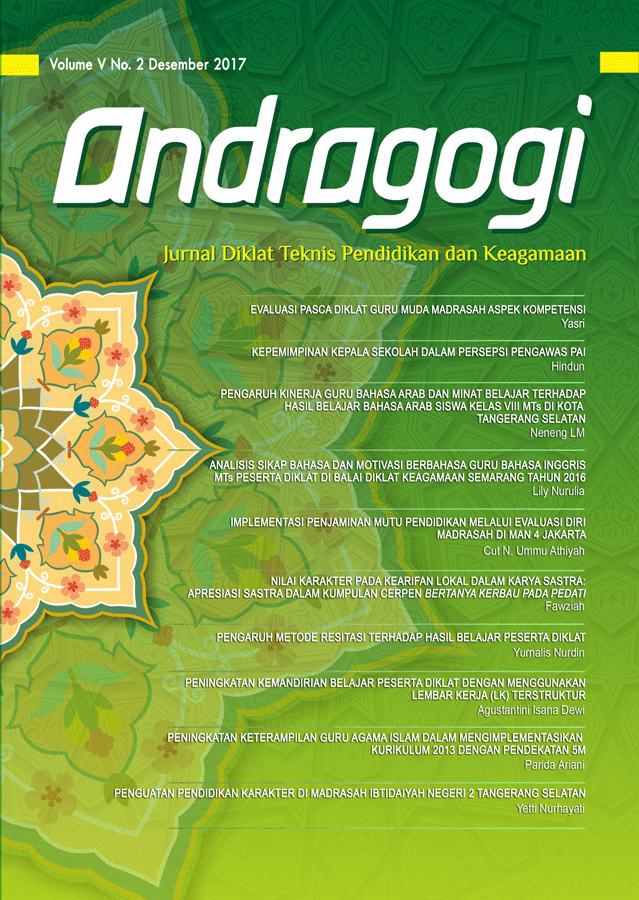 Authors who publish with this journal agree to the following terms:
Authors retain copyright and grant the journal right of first publication with the work simultaneously licensed under a Creative Commons Attribution License that allows others to share the work with an acknowledgment of the work's authorship and initial publication in this journal.
Authors are able to enter into separate, additional contractual arrangements for the non-exclusive distribution of the journal's published version of the work (e.g., post it to an institutional repository or publish it in a book), with an acknowledgment of its initial publication in this journal.
Authors are permitted and encouraged to post their work online (e.g., in institutional repositories or on their website) prior to and during the submission process, as it can lead to productive exchanges, as well as earlier and greater citation of published work (See The Effect of Open Access).